The medical industry is moving quickly to effectively and efficiently apply wireless technologies for various applications including seamless and secure communications (people-to-people, as well as machine-to-machine), always-on patient monitoring, accurate medicine management, one-shot patient and inventory checking, and more. Although there are vast benefits, applying wireless technologies into medical devices also brings significant design and test challenges to avoid any unexpected or critical situations. In addition to the wireless radio technology challenges, wireless medical device engineers must also solve the additional challenges of RF interferences among other equipment, EMI/EMC, digital interface, power management, and battery life. As the premier measurement company and a technology leader in chemical analysis, life sciences, diagnostics, electronics and communications, Keysight Technologies, Inc. provides broad and powerful wireless design and test solutions for medical device applications. Greater insight. Greater confidence. Accelerated next-generation wireless.
[%2-columns%][%col-50%]
FieldFox Handheld Analyzers enable users to carry the precision of a benchtop analyzer in the palm of their hands, making it easier to install and maintain wireless medical devices and systems in hospitals and clinics. FieldFox's measurement precision enables installers to be assured that telemetry characterization will correlate with performance data from the manufacturer. The interference analysis tools enable the biomedical and clinical engineering teams to quickly pinpoint and mitigate electromagnetic interference.
[%end-col-50%] [%col-50%]
[%end-col-50%][%end-2-columns%]
[%2-columns%][%col-50%]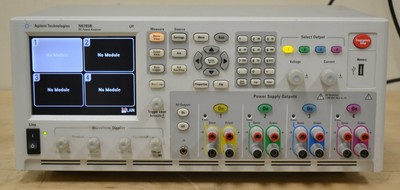 [%end-col-50%] [%col-50%]
N6705B DC power analyzer/N6781A SMU module/14585A control and analysis software is an integrated solution that creates a powerful tool. Perfect for battery emulation, dynamic current drain measurement from sub-microamps to Amps, current drain analysis, and battery run down testing. This innovative new tool solves the shortcomings of conventional measurement techniques, helps engineers solve tough current drain measurements, give the ability to see current drain like you have never seen before (uA's and Amps in the same acquisition), and can help optimize the battery life of your portable battery-powered medical devices.
[%end-col-50%][%end-2-columns%]
[%2-columns%][%col-50%]
M9381A PXIe vector signal generator is a compact modular solution that enables faster measurements without compromise on signal quality. It provides frequency coverage from 1 MHz to 3.0 or 6.0 GHz, and up to 160 MHz of RF modulation bandwidth to support emerging wireless standards. The M9381A accelerates test throughput with less than10 µs baseband tuning and less than 220 µs full RF range, RF parametric performance of +19 dBm output power, linearity and accuracy, reducing overall test time.
[%end-col-50%] [%col-50%]
[%end-col-50%][%end-2-columns%]
[%2-columns%][%col-50%]
[%end-col-50%] [%col-50%]
N9020A MXA signal analyzer with N6141A embedded EMI measurement application performs pre-compliance conducted and radiated emissions tests to both commercial and MIL-STD requirements. The sensitivity of the MXA signal analyzer enables users to see device emissions hidden in the noise floor. It also gives them the ability to continuously monitor signals over time, so they can catch intermittent signals. Bar graphs and report-generation tools allow for valuable insight into device performance during the design process
[%end-col-50%][%end-2-columns%]
[%2-columns%][%col-50%]
N4010A wireless connectivity test set enables developers, integrators and manufacturers to verify the performance of devices using WLAN, Bluetooth or ZigBee. It can be configured for specific test needs associated with Bluetooth low energy, Bluetooth Enhanced Data Rate (EDR), Wireless LAN 802.11 a/b/g, 802.11n MIMO, and other wireless connectivity technologies. The flexibility of the N4010A allows efficient and low-cost testing of applications and small form-factor devices for health care and fitness.

[%end-col-50%] [%col-50%]
[%end-col-50%][%end-2-columns%]
[%2-columns%][%col-50%]
[%end-col-50%] [%col-50%]
T3121S near field communication (NFC) R&D test system is the essential tool for NFC & RFID developers and test labs, covering all product development phases from R&D to final certification. Providing RF and protocol test capability in a single instrument, the T3121S is easy to use. Testing can be automated using commonly available programming tools. With all necessary measurement tools included in a compact package, the T3121S reduces test bench complexity and speeds learning to allow rapid design and troubleshooting of devices using contactless technologies
[%end-col-50%][%end-2-columns%]
[%2-columns%][%col-50%]
InfiniiVision 4000 X-Series oscilloscope delivers waveform update rates 20 times faster than competitive products (1,000,000 waveforms/sec) to display the most signal detail. It also includes an industry-leading 12.1-inch capacitive touch screen with innovative hardware-based InfiniiScan Zone touch triggering, enabling you to easily trigger on any signal you can see on the screen. Plus you get the capabilities of five instruments in one with full upgradability.
[%end-col-50%] [%col-50%]
[%end-col-50%][%end-2-columns%]
[%2-columns%][%col-50%]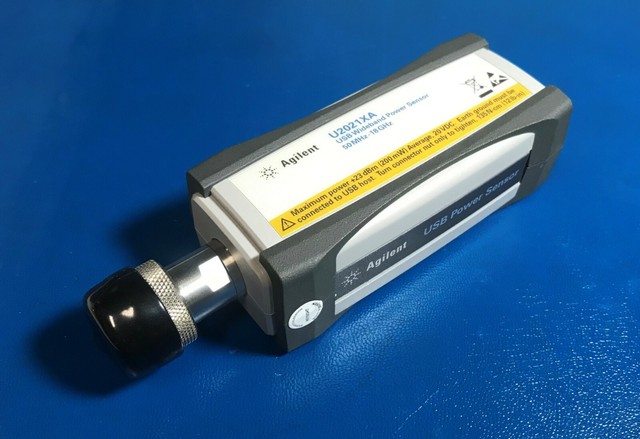 [%end-col-50%] [%col-50%]
The compact, portable US-based U2021XA USB peak and average power sensor is ideal for making RF power measurements on amplifiers used with x-ray, MRI and other medical equipment. It can be used with a pc and is compatible with many Keysight instruments as well. The fast rise time, bandwidth and reading speed allow for measurements of fast pulses as well as continuous power. The included N1918A companion software provides for a quick reading of the power as well as extensive analysis.
[%end-col-50%][%end-2-columns%]
[%2-columns%][%col-50%]
With its VGA TFT display, U1610A/20A 200MHz isolated channel handheld oscilloscope provides four times the resolution compared to any in the market today, in all three modes: day, night and outdoors. It has over 100 times the memory allowing capture and replay of signals with zoom-in fine waveform details. Free PC software allows operation of scope via USB extension cable, from a safe distance away from the signal source. Operators thus can avoid contacting X-ray, magnetic field or RF field. U1610/20A handheld scopes are ideal for servicing sophisticated medical equipment
[%end-col-50%] [%col-50%]
[%end-col-50%][%end-2-columns%]