AT-PMS power monitoring system is an industrial automation system. The core of this product is developed from ATSCADA software. This is Vietnamese brand SCADA software widely used in Vietnam. ATSCADA Lab uses ATSCADA software as a platform to package many application software solutions in production. AT-PMS is a software package for power monitoring for the entire manufacturing plant.
STRUCTURE OF ELECTRICITY MANAGEMENT SYSTEM
The picture below is the most comprehensive power monitoring system for a manufacturing plant. The system includes many power meters. They are distributed in the factory to monitor the electrical parameters for production clusters. The RS485 field-level signal converter into the AT-S2E ethernet high-speed network helps centralize electrical parameters to the industrial computer. This computer runs SCADA AT-PMS software to monitor power statistics at the plant. Thanks to the highly decentralized ATSCADA software inherited by AT-PMS, managers can remotely monitor the entire system via smartphones, laptops over the internet if they are authorized.
FEATURES OF POWER MANAGEMENT SYSTEM PMS
The AT-PMS power monitoring system proposed above performs the following features:
- Display real-time all electrical parameters of the machine in place in the factory: U, I, Cosφ, P, Q,….
- These parameters of all power meters are gathered on SCADA software running on ATBOX industrial computer for centralized viewing on the software.
- Values ​​can be set to monitor alarms: warning of overload, phase loss, large power factor,…. The alarm is triggered with the siren light. Via SMS thanks to the attached SMS moderm. Via email if the iPC has internet connection.
- Real-time electrical parameters are diversely represented in data and graphs. Stored for reporting, analysis, statistics to excel file.
- If ATBOX is connected to the internet and configured to monitor, export reports remotely. Authorized management levels can access monitoring and report on the system via the web using smartphones, laptops from anywhere.
EQUIPMENTS IN POWER MANAGEMENT SYSTEM PMS
The power meter has built-in communication function
The AT-PMS power consumption management system can use almost any types of power meter available on the market. Thanks to the variety of communication drivers that ATSCADA software supports. Most of the power monitoring meters in the market such as: Klemsan (Turkey), Selec (India), Schneider (France), Siemens (Germany), ... have very popular communication protocols. For example: modbus rtu rs485, modbus tcp / ip, profinet, ... to transmit real-time data to a computer running SCADA.
Image: LED indicator Klemsan power meter from Turkey
RS485 to TCP / IP signal converter
AT-S2E converter transfers data on modbus rtu rs485 transmission to modbus tcp / ip ethernet to focus on ATBOX iPC. This device is necessary because the iPC computer itself does not have a default rs485 port. Most industrial computers have 1 to 2 ethernet ports. They are built to receive real-time data transmitted from the metering equipment.
On the ATBOX computer there is also a variety of USB ports. So besides AT-S2E converter from rs485 to ethernet, you can also use rs485 to usb converter. This type of converter to USB is also very popular in the market. However, the price is not inexpensive and wiring the rs485 to the position of the industrial computer in the power quality monitoring system is needed.
ATBOX industrial computer in Power Management System PMS

The heart of the AT-PMS power monitoring system. ATBOX industrial computer runs the SCADA application software package - energy management software. This software reads all measurements of all power meters. Its purposes are to display on the interface in the form of figures, graphs. Making alarms by siren on the spot, via SMS via GSM modem, via email. Software on the ATBOX has the function of analyzing archived data for reporting. For details of software features, please refer to the subsection of software running on SCADA server machine below.
ATCloud Server SCADA Cloud Server
ATCloudServer is needed if the AT-PMS system is configured to be distributed over the internet. The cloud server is responsible for the bidirectional data transfer between ATBOX industrial computer suites and managers' terminal monitoring devices. These terminals are smartphones, tablets, and laptops anywhere in the world. Configuring the cloud server is extremely simple thanks to AT-PMS's legacy ATSCADA platform. Clients can use Cloud server services of ATSCADA Lab, Or suggestions can be made to have your own private server.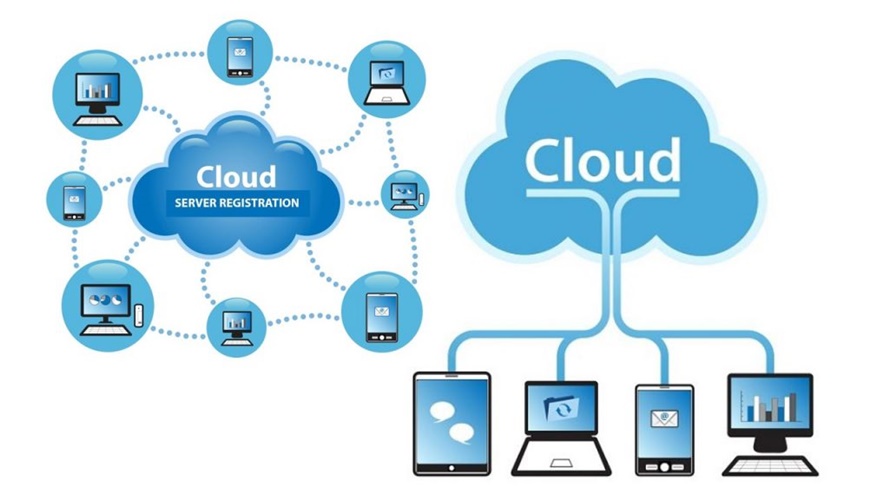 THE SOFTWARE OF POWER MONITORING SYSTEM

Software runs on SCADA Server machine
AT-PMS software centrally manages all power meters of the plant running on ATBOX industrial computer. This electricity monitoring software must have the quality of SCADA - Supervisory Control And Data Acquisition software. Translated into Control Software for monitoring and data acquisition. Inherited from Lab's ATSCADA software. So the AT-PMS power management software has innate features:
- Display real-time data of all power meters - realtime data display.
- Real-time graph display of electrical parameters of power meters - realtime trend.
- Chase after real time values ​​to make an alarm.
- Export statistical report of data that has been stored to database - report.
Image: SCADA system in plants

Characteristics of a SCADA software used in Power Management System PMS are: statistical analysis of power consumption data, voltage, current, power factor cosφ, ... to inform about the quality of the grid power. Prediction about machine's remaining useful life. Calculate specific amount of power consumption over time. Calculate the electricity bill that needs to be paid to the authority, thereby comparing with the electricity bill provided by the authority.
Image: Exports in-place power consumption report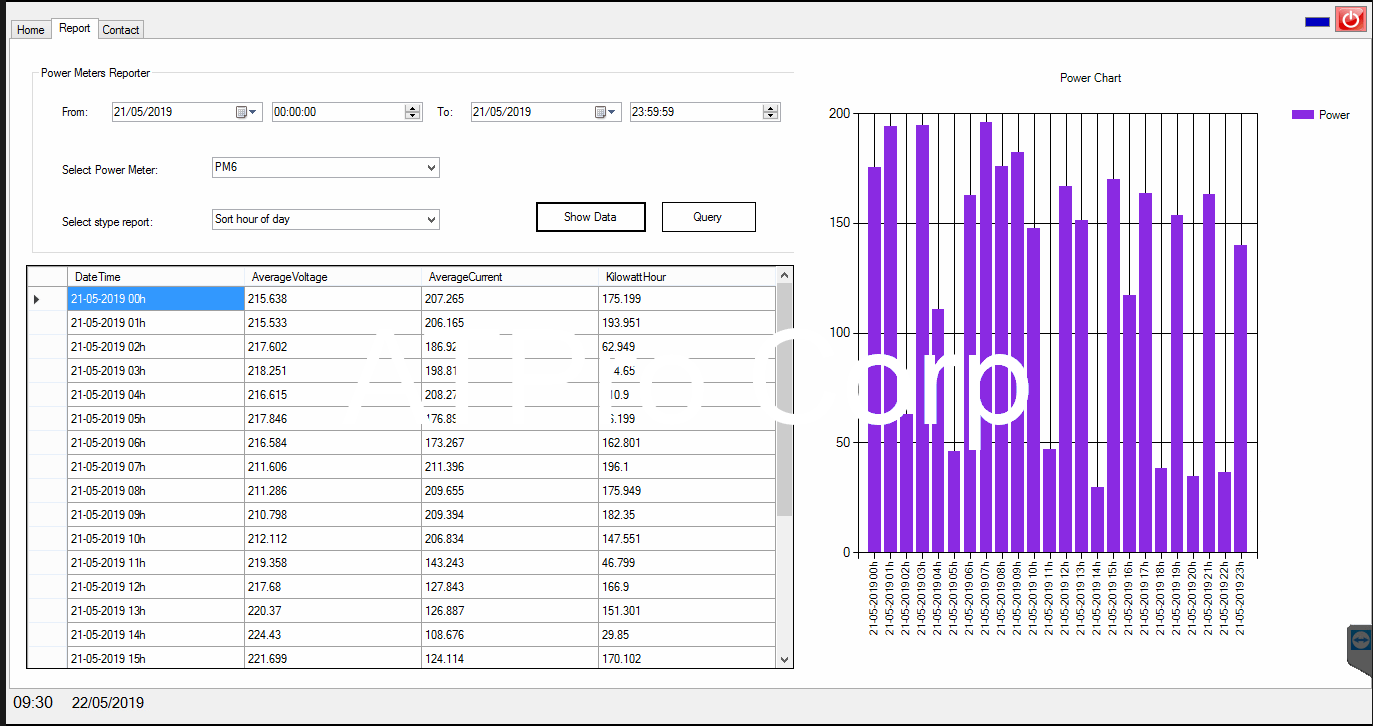 Photo: Export reports under the form of statistic, analysis graph of power consumption

Web-based SCADA software on cloud server in Power Management System PMS
When users requỉre features about monitoring, exporting reports via the internet on your phone, laptop,…. ATSCADA Lab configures and operates the Cloud server. This requirement can be fulfilled by installing Web-based SCADA AT-PMS software package.
Web-based SCADA AT-PMS software is also fully featured for real-time monitoring of power parameters, full statistical report and allows detailed report files to be downloaded. The report is in excel form that is very user-friendly to view on smart mobile devices.
Main upsides of Power Monitoring System
- Fully-automated, manual recording of electric indicators is replaced.
- Increased in the absolute accuracy of the power readings measured from many power meters.
- The data is updated 24/7 continuously for reporting, analysis and warning.
- Users can rely on warnings to promptly handle electrical problems to protect machines simultaneously.
- Forecasting the quality of electricity supplied by the authority. Forecast of equipment and machinery for operation, proactively maintain and minimize downtime.
- Actively plan to increase power-saving solutions based on the reports.
- Report the total power consumption, corresponding to the electricity bill. As an objective tool to compare with lamp suppliers.
- Maintain a reasonable load operation, minimize overload or underload.
SOME ACTUAL DEPLOYMENTS